The Trade Corridor Bulletin
Volume 16 – No. 3 | June 2022
CAGTC Membership Gathers in Washington for Annual Meeting
By: CAGTC Staff
It has been three years since the members of the Coalition for America's Gateways & Trade Corridors last gathered in Washington, D.C. for our Annual Meeting. From lockdowns to product shortages and strained supply chains, the impacts of the pandemic have been widespread throughout the freight industry. A bright spot, however, is the passage of the Bipartisan Infrastructure Law (BIL) in 2021, which contained an unprecedented amount of funding for goods movement projects and important policy provisions championed by CAGTC. Importantly, the pandemic has elevated the public perception and recognition of freight supply chains from rarely discussed concepts to front-page news, reinforcing our advocacy work and broadcasting our important message to a wider audience.
With so much to catch up on, CAGTC's membership was eager to meet in person in mid-May to discuss BIL implementation, current events, and strategies to maximize the value and effectiveness of federal infrastructure funding. This year, CAGTC members and stakeholders gathered just blocks away from the U.S. Department of Transportation to engage with policymakers and industry experts on these pressing topics.
Keynote Remarks: The Honorable Polly Trottenberg
USDOT Deputy Secretary Polly Trottenberg provided keynote remarks, recognizing CAGTC's tenacity in advocating for goods movement funding was reflected in the BIL.
Given the current levels of supply chain congestion, Deputy Secretary Trottenberg detailed USDOT efforts to provide relief quickly and efficiently, such as the new Office of Multimodal Freight Infrastructure and Policy, which will administer freight grant programs. The development of this office has been a longstanding policy priority for CAGTC.
The Biden-Harris Administration has several priorities as it implements "about 25 years of transportation legislation" in the span of a few years, including port electrification, reducing environmental impacts on disadvantaged communities, and creating the next generation of well-paying jobs in the supply chain industry. Among USDOT's strategies to support supply chain efficiency, she highlighted the Freight Logistics Optimization Works (FLOW) initiative. This partnership with private companies aims to encourage data sharing among freight supply chain participants to identify vulnerabilities and bottlenecks.
Anxious to apply BIL funding toward important infrastructure needs as quickly as possible, CAGTC members posed a number of suggestions that would accelerate funding delivery. During the question and answer portion, many meeting participants shared their concerns about inflation and its impact on the BIL. Deputy Secretary Trottenberg indicated USDOT is exploring opportunities to expand its permitting authority and expressed interest in receiving proposals that may speed project funding delivery. Additionally, she noted that USDOT is developing a platform to track projects online.
Is Inflation Eroding the Bipartisan Infrastructure Law Potential?
With inflation rising across the U.S., Pierce Homer, Director of Transportation for Moffatt & Nichol, led a discussion on how higher prices could diminish the BIL's buying power.
Dr. Alison Premo Black, Chief Economist for the American Road and Transportation Builders Association, noted that the monthly input price for highway and street construction is up 21 percent from March 2021.
Dr. Black continued to highlight the change in prices for construction inputs by comparing March 2021 to March 2022. Since 2021, diesel prices have increased by 64 percent, asphalt increased by 37 percent, and iron and steel increased by 36 percent.
Michele Stanley, Vice President of Government and Regulatory Affairs for the National Stone, Sand & Gravel Association, shared the average prices for aggregate materials in May 2022 compared to 2021. Most notably, the cost of concrete sand is 40.8 percent higher than last year and masonry sand costs 30.1 percent more.
Ashley Wieland, President of the National Railroad Construction & Maintenance Association, spoke about labor shortages and shared creative ways her member companies are recruiting talent. She noted that a streamlined project permitting process could blunt inflationary cost increases.
Is Infrastructure Serving Our Supply Chains?
As COVID-19 brought more public awareness to supply chain inefficiencies, Fran Inman, Senior Vice President of Majestic Realty, opened the session by asking each panelist what challenge is keeping them up at night.
"The fact that we've been working on [improving the supply chain] for 20 plus years and still don't have a better solution, and it's not getting any better," said Jon Gold, Vice President of Supply Chain and Customs Policy for the National Retail Federation. "You've got to have better connectivity to understand what's happening at any point in the supply chain."
Lauren Brand, President of the National Association of Waterfront Employers, described how ports do not operate on a national system, which has resulted in local politicians making short-term decisions. For example, developing valuable waterfront real estate for sports and entertainment purposes rather than for maritime commerce.
Panelists expressed frustration with the lack of data uniformity and transparency. The panelists agreed on the need to analyze the supply chain system holistically when determining where to make investments. "There has to be a reorientation about what programs we have for infrastructure, and how are we thinking about design and physical infrastructure," said Tom Madrecki, Vice President of Supply Chain and Logistics for the Consumer Brands Association.
Noting that the regulatory environment leaves room for operating efficiency, Peter Friedmann, Executive Director for the Agriculture Transportation Coalition, suggested that there should be a national review of what does not need to be constructed before deciding what does. "We have more trucks on the road than we need," said Mr. Friedmann. "We've got two trucks on the road for every one that they need in Canada, or Mexico, or Europe."
Ms. Brand noted the need for increased collaboration with environmental advocacy groups to understand the challenges of establishing an environmentally friendly supply chain. For example, responding to a grid shutdown during a natural disaster would be an important consideration for fully electric infrastructure projects.
Panelists offered several recommendations to incentivize projects that stand to benefit the supply chain, including shorter, less complex notices of funding opportunities and ensuring incentives can be adapted to suit different project types.
The Real Scoop – A Conversation with the Press
Ryan McFarland, Senior Manager of Government Affairs for The Northwest Seaport Alliance, served as the moderator for CAGTC's "Conversation with the Press."
Panelists covered a range of topics impacting the supply chain, including the Surface Transportation Board reauthorization, USDOT's workforce challenges and hiring needs, automated vehicles, the Ocean Shipping Reform Act, and how upcoming midterm elections will drive political behavior.
Mr. McFarland asked the participants what will drive the Biden-Harris Administration's approach to funding given the pressure on the White House to implement the BIL. Panelists expected that the Administration will review project applications based on their solutions for climate change, congestion, sustainability, and safety. Additionally, heightened media attention on supply chain inefficiencies will likely result in increased consideration of a project's ability to offer supply chain relief.
The panelists explained that the Administration is attentive to the fact that people will be scrutinizing whether BIL funds are evenly distributed between red and blue states and whether certain types of projects receive more funding than others. Politico's Tanya Snyder referenced a recent memo issued by USDOT welcoming additional oversight to prevent "waste, fraud, and abuse," noting this could strengthen the role of the Inspector General.
The panel discussed expected legislative and regulatory changes as the country approaches midterm elections. The reporters predicted infrastructure legislation would receive less attention in Congress over the coming months as it is generally not an issue that will cause a candidate to gain votes. "This summer and fall, we're going to shift from the legislative side to the regulatory side," said Eugene Mulero from Transport Topics. "The White House is going to be more on the forefront with Executive Orders and policymaking, especially when it comes to the freight spectrum with mandates on speed limiters for commercial vehicles and drug testing for commercial drivers."
CAGTC Elects New Board Leadership, Directors
By: CAGTC Staff
The Coalition for America's Gateways and Trade Corridors (CAGTC) membership elected three officers and six directors on May 12 to its Board as the group gathered in Washington to engage in the Bipartisan Infrastructure Law implementation process.
Paul Anderson, President & CEO of Port Tampa Bay, is now CAGTC's fifth Chairman, while former CAGTC Treasurer Rick Cameron, Deputy Executive Director of Planning and Development, Port of Long Beach was elected Vice Chairman and Erin Aleman, Executive Director, Chicago Metropolitan Agency for Planning, was elected Treasurer. Each officer will serve a three-year term.
Metrolink Chief Strategy Officer Paul Hubler served a three-year term as CAGTC Chairman, elected to the position in 2019, and assisted in navigating the organization during a global pandemic that put an extraordinary strain on freight infrastructure and operations. Mr. Hubler's Chairmanship tenure also includes leading the organization's advocacy efforts during the development and passage of the Bipartisan Infrastructure Law, which contains unprecedented funding levels for goods movement infrastructure.
CAGTC Membership voted to add Jim Hagar, Economic Development Project Manager, Port of Vancouver USA, to the Board of Directors for a three-year term. The membership also re-elected five Board Members to serve another three-year term:
➢ Rick Cameron, Deputy Executive Director of Planning and Development, Port of Long Beach
➢ Darin Chidsey, Chief Operating Officer, Southern California Association of Governments
➢ Glenn Miles, Executive Director, Kootenai Metropolitan Planning Organization
➢ Captain John Murray, Chief Executive Officer and Port Director, Canaveral Port Authority
➢ Tom Saunders, Director of Government Affairs, Ports America/ Port Newark Container Terminal
"I am incredibly honored to be leading the Coalition for America's Gateways and Trade Corridors as their new chairman," said Paul Anderson, President & CEO, Port Tampa Bay. "I will build on the numerous successes the organization experienced under their previous chair, Paul Hubler, and will continue to advocate for the efficient movement of cargo by land, sea, and air. Supply chain efficiency has become a critically important issue, and CAGTC and its members are deeply committed to improving freight transportation to aid in the movement of the goods our country depends on."
Read the full release here.
Industry News
Biden Administration Announces Over $368 Million in Grants to Improve Rail, Infrastructure, Enhance and Strengthen Supply Chains
On June 2, the Federal Railroad Administration (FRA) announced over $368 million in Consolidated Rail Infrastructure and Safety Improvements (CRISI) grant program funds to 46 projects in 32 states and the District of Columbia. These investments will play a crucial role in modernizing our country's rail infrastructure and strengthening supply chains, helping to reduce congestion and get people and goods where they need to go quickly and more affordably.
CRISI aims to advance intercity passenger and freight rail projects that promote FRA's key goals of safety, economic growth, transportation equity, and sustainable and resilient infrastructure. CRISI-funded projects will enhance multi-modal connections, address slow orders, and fix up 100-year-old track to speed up the movement of goods from ports to rail to trucks to shelves. As the nation continues to recover from the COVID-19 pandemic, these upgrades and expansions will help state and local governments and rail carriers meet renewed travel demand and strengthen supply chains.
Examples of projects funded this year:
Port of Baltimore Rail Capacity Modernization Project (Up to $15,680,000)
Maryland Port Administration

The proposed project will construct four new working tracks and two crane rail beams within the Port of Baltimore's Seagirt Marine Terminal in Baltimore, Maryland. The proposed improvements aim to meet demand in intermodal volumes. The Seagirt Terminal supports multi-modal connections with rail, road, and water to both Norfolk Southern and CSX railroad, which support freight traffic to East Coast and Midwest markets. This intermodal connection will help reduce congestion and speed up the movement of goods.
Pacific Northwest Rail Corridor Reliability - Landslide Mitigation Phase IV Project (up to $3,837,000)

Washington State Department of Transportation

The proposed project will reduce landslide blocking events by installing catchment walls along BNSF's Scenic Subdivision at three locations between Seattle and Everett, Washington. In addition to constructing catchment walls to reduce the risk of slide debris reaching the tracks, the project also improves the existing slide fence alert system that notifies dispatchers and train crews of possible track intrusion and improves drainage along the track. The project addresses landslide hazards at these locations and builds on prior investments to enhance the safety, reliability, and predictability of passenger rail service on the Pacific Northwest Rail Corridor. Washington DOT and BNSF will provide a 50 percent match.
Read the full release here.
Industry News
USDOT Increases Hiring to Implement BIL
The Infrastructure Investment and Jobs Act, also known as the Bipartisan Infrastructure Law, is an historic investment in America. The federal government needs to fill essential and mission-driven roles: scientists to combat climate change, engineers to repair and rebuild our roads and bridges and workers to help ensure that every community in America has clean water, among many others.
To learn more, click here.
Member News
President Biden Visits the Port of Los Angeles
On June 10, President Biden visited the Port of Los Angeles, delivering a speech aboard the Battleship USS Iowa, where he noted progress on the nation's supply chain challenges and thanked waterfront workers and terminals for their efforts in processing record amounts of cargo amid the pandemic.
"Today, we had the honor and privilege of hosting the 46th president of the United States," said Port of Los Angeles Executive Director Gene Seroka. "The Biden-Harris administration's convening power of public and private stakeholders has helped drive goods to American consumers and businesses.
"Our ongoing work with the president and his administration continues to focus on our nation's ports and supply chain resiliency. His visit to the Port of Los Angeles is a recognition of the tremendous effort across the maritime supply chain to move a record volume of cargo for the American economy."
The busiest seaport in the Western Hemisphere, the Port of Los Angeles is North America's leading trade gateway and has ranked as the number one container port in the United States for 22 consecutive years. In 2021, the Port facilitated $294 billion in trade and handled a total of 10.7 million container units, the busiest calendar year in the Port's 115-year history. San Pedro Bay port complex operations and commerce facilitate one in nine jobs across the Southern California counties of Los Angeles, Orange, Riverside, San Bernardino and Ventura.
Read the release here.
Member News
USDA Announces Partnership with the Port of Houston and Expansion of Partnership with Northwest Seaport Alliance to Ease Port Congestion and Restore Disrupted Shipping Services to U.S. Grown Agricultural Commodities
Agriculture Secretary Tom Vilsack announced plans to increase capacity for exporting chilled and frozen agricultural commodities at the Port of Houston in Houston, Texas, to help improve service for shippers of U.S. grown agricultural commodities. The U.S. Department of Agriculture (USDA) is partnering with the Port of Houston to lease additional chassis, used to position and store containers while waiting for vessels to arrive, enabling the port to fully utilize its capacity for refrigerated shipping ("reefer") containers. USDA is taking action to increase capacity for U.S. agricultural exports and ensure delays or insufficient capacity do not restrict exports. The Port of Houston is the public port handling over two-thirds of the Gulf of Mexico's container cargoes – the sixth busiest container gateway in the United States.
In addition, USDA is announcing an expansion of its existing partnership with the Northwest Seaport Alliance (NWSA) to enhance access to a 16-acre "pop up" site to accept either dry agricultural or refrigerated containers for temporary storage at NWSA in Tacoma to reduce operational hurdles and costs, so they can more quickly be loaded on ships at the export terminals. This announcement builds on the existing partnership with the NWSA at the Port of Seattle announced on March 18, 2022. The NWSA includes the marine cargo operations of the ports of Seattle and Tacoma and is the fourth-largest container gateway in the United States.
Read the release here.
Research News
Chicago DOT Conducts Rail Futures Study II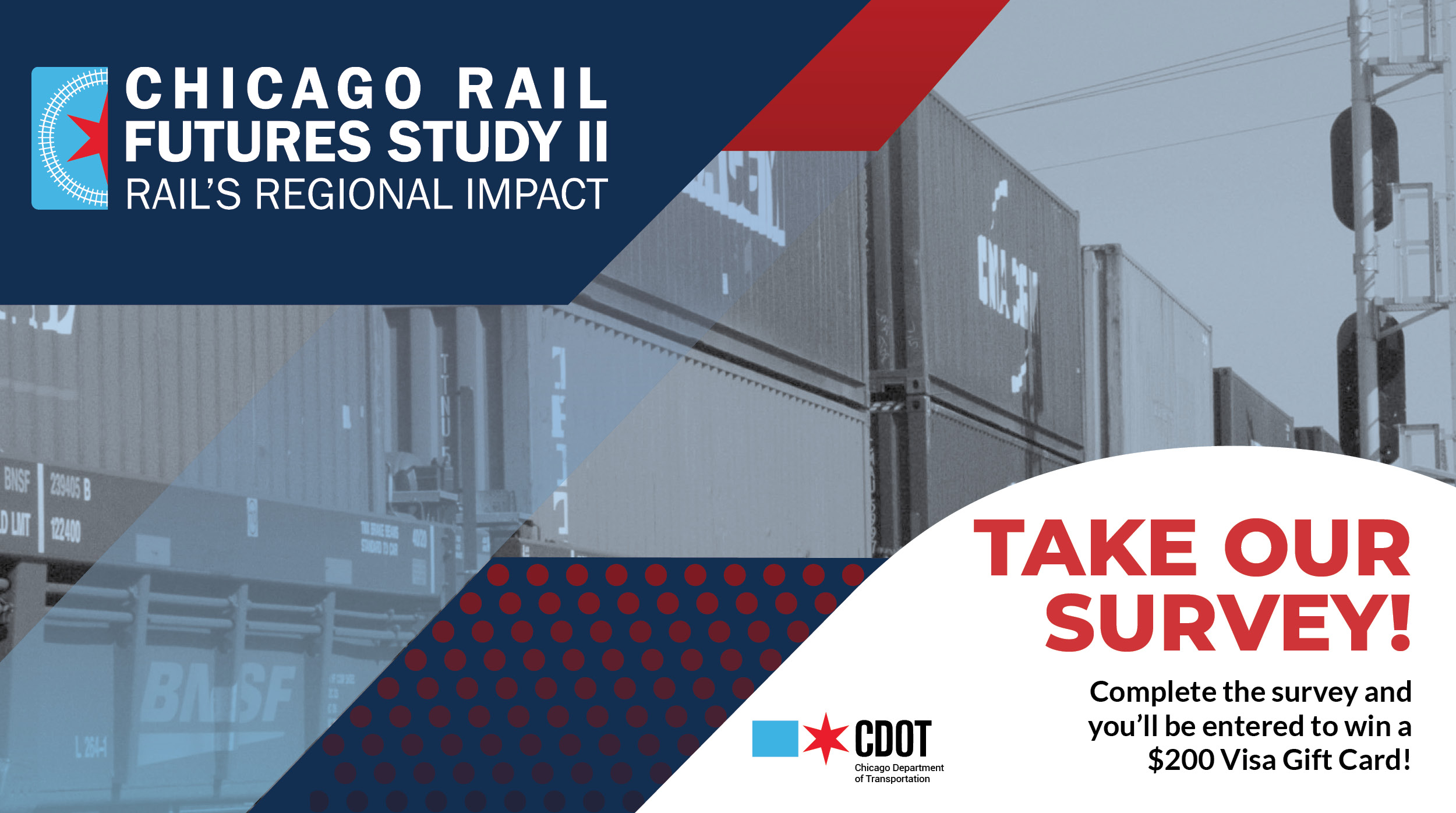 The Chicago Department of Transportation (CDOT) is seeking participants for its Chicago Rail Futures Study II  to examine the current impacts and needs of freight and passenger rail in the region.
In 2003, CDOT completed the Chicago Freight Rail Futures Study, which provided a comprehensive picture of the economic impacts of the rail industry for the City and region. The study's findings supported the increased investment in rail infrastructure, including the Chicago Region Environmental and Transportation Efficiency (CREATE) Program, a first-of-its kind public-private partnership to modernize the region's freight and passenger rail network.
The Chicago Rail Futures Study II will document how the regional rail system has evolved in recent decades, investigate rail benefits and impacts to users and residents including local equity issues, and assess current opportunities for rail-related infrastructure investments in the region including the future of the CREATE Program.
Research News
How Much Could Inflation Erode IIJA Buying Power?
Anyone who goes to a store, a restaurant, or a gas station can see that prices are going up, and most things cost measurably more than they did a year or two ago.
Of course, that equation is easily inverted. If the price of something goes up, then the amount of that something that can be purchased with a fixed amount of money goes down. For example, gasoline prices have gone from $2.89 a gallon to $4.13 per gallon in the last year (AAA national average). On the inverted side, that means that a year ago, $50 would purchase 17.3 gallons of gasoline, but now, $50 only buys 12.1 gallons. (Depending on the size of your vehicle, the price of a full tank may of gas have crossed the $50 barrier in the last year.)
Read the full report here.